This page is in the middle of an expansion or major revamping. You are welcome to assist in its construction by editing it as well. If this article has not been edited in several days, please remove this template.
This article or section was last edited by Deutschlandkaiser (Contribs • Log) 345804 minutes ago.
Part of a series on
Transhumanism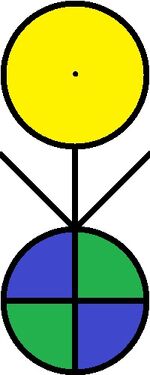 Charts
Wikipedia
ReligionFacts
InfoPlease

Relation To...
Satanism
Religious Naturalism
Transhumanism

Scripture
Encyclopedias
Truths of Terasem
Divine Selection
Deities
The Omniverse
Henotheist Nature
Theosis Speciation
7 Divine Attributes
Eternalness
Ubiquity
Potency
Uniqueness
Benevolence
Wisdom
Freedom

Initiation
Terasem Pledge
Exaltists' Code
Will of Conscious

The Goal
Returning Later
The Singularity
The Noosphere
The Omega Point
Verse of Extropy
Heaven

Ethics
Natural Evil
Human Evil
Maintenance
Growth
Destruction
Restoration
The Future

Rituals
Mental Stimulation
Extropy
Solar Holidays
Symbology
Lingua Reverentia

Denominations
Mainstream
Omnist
Moderate

Websites
Mental Stimulation. There is a ritual that Exaltists do to promote and encourage the mental facilities of the mind. This is a simple yet effective measure to increase cognition, Simply put, crossing one's hands over and over in a swiftly matter over the course of a few minutes or longer will help focus the individual for tasks at hand. To intensify this, one might be able to do more if he or she crosses his or her eyes at the same time.
Extropy. Extropy cannot be properly measured by any means, but being able to sustain, improve or regain important vitalities is considered crucial for all Exaltists to do.